ROMANCE.
In anticipation of the upcoming book,
A Time for Dragons
, the anthology of Philippine Draconic Fiction (edited by Vincent Michael Simbulan and published under the Anvil Fantasy line,) I'll be posting an illustration from the book per day, plus a short excerpt from the story it was based on.
Images are copyright (c)2009 Andrew Drilon and Anvil Publishing, Inc.
For those interested, the original artwork will be up for sale during the book launch.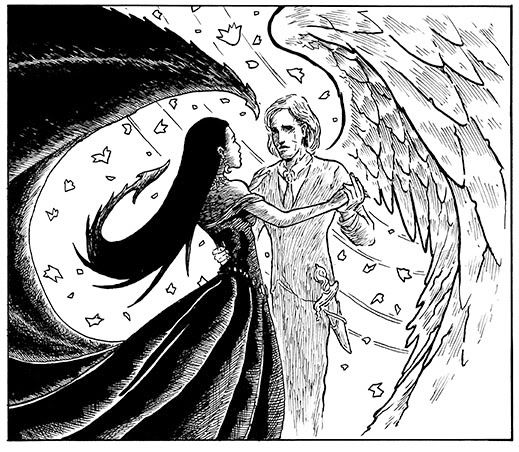 Isabella drew a deep breath. She knew what he wanted her to say. It was blatantly obvious, even to someone like her. The question was whether or not she was strong enough to survive her confession.

"Isabella?"

It was the way he said her name that finally convinced her to take the leap. She thought he sounded like Michael.

Isabella buried herself deeper into the darkness of her wings and braced herself for the fall.



-from "3:30pm with Sir Galahad" by Kate Aton-Osias
A Time for Dragons
Book Launch:
3pm, March 29, 2009 (Sunday)
Powerbooks Shangrila (start of parade)
Grand Atrium Shangrila (main program)
For more information, please visit Anvil's website, over
HERE