SATURDAY MORNING:
Attended the
Komikon 2007
from 10am to 1pm, which was stretching it, really, because I had a uniform thing to get to. But damn, it was a blast. Lots and lots of people were there, and perhaps the most exciting part of the convention was the
Indie Tiangge
, where young independent comicbook creators sat back-to-back selling their photocopied goods. I bought loads of minicomics and I have my stash with me right now. Gonna look through them when I have the time, see what's up. The pile looks promising. :D
I was glad to see the usual suspects--Elbert Or, Carlo Vergara, Marco Dimaano, Budjette Tan, Reno Maniquis, Jonas Diego and more--hanging out and vending goods at their respective tables. Haven't been in much in touch with the world recently, due to my hectic schedule, so it was wonderful to meet up with old friends and inspirations again.
Highlights of my few-hour stay: acquiring Michael David's "limited edition"
Kubori Kikiam
, catching up with Leon, Ruzela, Zena and the GRAIL people, getting my caricature done by komiks veteran Yong Montano, excitedly anticipating Gerry Alanguilan's
Elmer #3,
meeting new creators, talking upcoming plans with Budjette, getting a new issue of
Trese
, hi's and hugs with long-time-no-sees, picking up a rare old issue of
Alamat 101
, and smoking in the now-non-smoking-campus of UP Diliman. Yay!
I really wish I could've stayed longer though. There were people I wanted to meet again, events I wanted to see, and things I wanted to pick up. Alas, it wasn't a very good day for me, schedule-wise. Next year though, I'll make sure to spend the whole day there. After all, I'll probably have a book or two to sell my then. ;p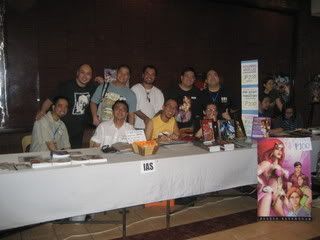 (Pics taken by
Marco
, who has an even better Komikon '07 update over
HERE.
)
SATURDAY NIGHT:
Went with my twin bro,
Anthony
, to Amaya's birthday party, which was AWESOME. Met up with almost all my old friends, which was so emotionally satisfying, because I hadn't seen any of them in MONTHS. Amaya served this great lasagna, some strangely-delicious all-vegetable barbecue, artichokes in cheese sauce and this very very addicting flour-less chocolate cake. We sang, we drank, we talked--I read Tarot for a handful of people, made some new friends, and exchanged stories.
Parties like these make me realize just how much everyone's grown up--we're all so frikkin' BUSY these days, going through shit, changing status, facing new challenges as life weighs us down and lifts us up. Adulthood is steadily creeping in, and while that might seem a frightening prospect to face, it's comforting to know that we have company along the way. Everyone's having adventures, and it's going to get even more exciting from here on.
NEWS BIT 1:
I'm now back in college. WHARG. Which means my formal title is now "working student", and that is a handsome title to bear. It also means that my schedule is even more hectic now (as if it couldn't get worse,) but I've worked things out and I'm hoping I can manage. We'll see how it goes; I may have to make some adjustments in my life in the coming months. But SCHOOL IS COOL, yes it is. :-p

NEWS BIT 2:
My very good friend,
Kate Osias
, has an amazing story up at the latest online fiction magazine,
Serendipity
(www.magicrealism.co.uk). It's called
"The River Stone Heart of Maria Dela Rosa"
(a very magic-realist title) and
you really should read it now.
It's terribly difficult to get a story accepted in an online magazine because the competition's usually so fierce, so I'm very impressed and proud that she made it. (Of course, it
may
have something to do with the fact that she's an awesome writer.) Congratulations Kate! :D

NEWS BIT 3:
Fully Booked contacted me yesterday to tell me that my short comic, "Lines and Spaces", has been short-listed for the
2nd Philippine Graphic/Fiction Awards!
Woo-hoo! The awards ceremony will be this coming Sunday, 3pm, @ the Fully Book main branch in Bonifacio High Street, and
Neil Gaiman
will be there to present the awards! I'm crossing my fingers on this one. Hope I win! :D

NEWS BIT 4:
I now have a Facebook. It's horribly addicting. Haven't really fixed it up yet, but I will when I have the time. I LOVE it. Add me up
HERE.
:D
AAAAND THAT'S IT FOR NOW.
I'm really, really, REALLY tired. Went through a long day, and I'm still gonna be working through the night. Lots of stuff to do. Can't wait for the weekend. Have a good week, people! :)
Because my blogging time seems to be less and less:
Current Mood:

working

Current Music:

"Time" - Billy Porter