Philippine Speculative Fiction volume 9
is finally here! Check out Kevin Roque's beautiful cover for the book:
A young tikbalang auditions at the country's largest TV station; a priest travels the universe to officiate sacraments in outer space; a murdered girl returns unscathed to the home of her perpetrators. The Philippine Speculative Fiction series showcases the rich variety of Philippine literature. Between these covers you will find magic realism next to science fiction, traditional fantasy beside slipstream, and imaginary worlds rubbing shoulders with alternate Philippine history—demonstrating that the literature of the fantastic is alive and well in the Philippines.

Stories from this series have been included in the Honorable Mentions list from The Year's Best Fantasy and Horror edited by Ellen Datlow, Kelly Link, and Gavin Grant.
I'll update this post as more links become available, but you can already pick up your copy at the following places:
Massive thanks to David Ong and the rest of Flipside Publishing for helping us put the book together!
Charles and I are so proud of the quality of the stories in this volume, and we're very excited for people to finally read it. We are planning a book launch to get all the amazing authors in together in one place, so stay tuned for details on that.
In the meantime, please enjoy the book! We hope that it thrills, frightens, amuses, saddens, endears and entertains you!
Charles and I are very proud to announce the Table of Contents for Philippine Speculative Fiction 9. We have a wonderful range of stories for this volume, from the absurd to the ominous, profane to pious, fabulous to phantasmagoric. They are:

Blood of Iron by Christian Renz Torres
Panopticon by Victor Ocampo
A Cha-cha with Insanity by Vida Cruz
Only Dogs Piss Here by Michael Aaron Gomez
Last Race by Jenny Ortuoste
Oscar's Marvelous Transformation by Kat Del Rosario
Stations of the Apostate by Alexander M. Osias
Sikat by William Robert Yasi
Deliver Us by Eliza Victoria
Miracles under a Concrete Sky by Franz Johann Dela Merced
The Unmaking of the Cuadro Amoroso by Kate Osias
The Woodsman by Cedric Tan
And These were the Names of the Vanished by Rochita Loenen-Ruiz
Anthropomorpha by Crystal Koo
Sofia by Marianne Villanueva
Transcripts from the Investigation on the Life and Death of Alastor de Roja by Vincent Michael Simbulan
TG2416 from Mars by Nikki Alfar
Mater Dolorosa by Marc Gregory Yu
Scissor Tongue by Elyss Punsalan
Cogito by AJ Elicaño

Congratulations to all the authors above, and a heartfelt thank you to everyone who took the time to send in stories for us to read. Stay tuned for more announcements as we prepare for the book's launch and release.
Editors Andrew Drilon and Charles Tan invite you (yes, you!) to submit short fiction for consideration for Philippine Speculative Fiction volume 9.
Philippine Speculative Fiction
is a yearly anthology series, which collects a wide range of stories that define, explore, and sometimes blur the boundaries of science fiction, fantasy, horror, and all things in between. The anthology has been shortlisted for the Manila Critics' Circle National Book Award, and multiple stories from each volume have been cited in roundups of the year's best speculative fiction across the globe.
First-time authors are more than welcome to submit; good stories trump literary credentials any time.
Submissions must be:
1. speculative fiction—i.e., they must contain strong elements and/or sensibilities of science fiction, fantasy, horror, magic realism, alternate history, folklore, superheroes, and/or related 'nonrealist' genres and subgenres
2. written in English
3. authored by persons of Philippine ethnicity and/or nationality
Submissions are preferred to be:
1. original and unpublished
2. no shorter than 1,000 words and no longer than 7,500
3. written for an adult audience
4. featuring a strong Filipino element (a character, setting, theme, plot, etcetera)
In all cases, these preferences can be easily overturned by exceptionally well-written pieces. In the case of previously-published work, if accepted, the author will be expected to secure permission to reprint, if necessary, from the original publishing entity, and to provide relevant publication information.
Submission details
:
1. No multiple or simultaneous submissions—i.e., submit only one story, and do not submit that story to any other publishing market until you have received a letter of regret from us. But we don't mind if you submit to contests.
2. All submissions should be in Rich Text Format (saved under the file extension '.rtf'), and emailed to philspecfic9@gmail.com, with the subject line 'PSF9 submission'.
3. The deadline for submissions is 11 pm, Manila time, October 26, 2013. Letters of acceptance or regret will be sent out no later than one month after the deadline.
Editors' notes:
1. Please don't forget to indicate your real name in the submission email! If you want to write under a pseudonym, that's fine, but this can be discussed upon story acceptance. Initially, we just need to know who we're talking to.
2. If you'd like to write a cover letter with your brief bio and publishing history (if applicable), do feel free to introduce yourself—but not your story, please. If it needs to be explained, it's probably not ready to be published.
3. We advise authors to avoid fancy formatting—this will just be a waste of your time and ours, since we will, eventually, standardize fonts and everything else to fit our established house style.
Authors of selected stories will receive Php500 pesos in compensation, as well as digital copies of the book.
Please help spread the word! Feel free to copy this and paste it anywhere you see fit that happens to be legal. :)
Thanks,
Andrew Drilon and Charles Tan, co-editors
Crisis on Infinite Earths
--a beat-up handmade TPB my older brother had in his bookshelf, which slapped together the original issues under a rough green watercolor-paper cover. It was dense, insanely complicated, filled with mobs of colorful characters and references to continuity I knew nothing about. I was maybe 4 or 5 years old, still learning the ins and outs of the English language, still struggling with reading comprehension and motor skills, but I immediately fell in love with it. The colors, the George Perez art, Wolfman's apocalyptic prose, strobe images of Barry Allen withering in staccato and hordes of super-people tackling universal stakes suffused with unshakable hope--it blew my young mind and made me a lifelong fan of comics.
A decade-and-a-half later: I quit college, left the house, decided to pursue my dream of making comics for a living and realized, to my dismay, that it was FUCKING HARD. The comics community, locally and abroad, is filled with tons of amazing, talented people, all chasing similar dreams, and in an industry with limited slots to offer I simply wasn't good enough to compete. Never mind, I thought, I'll make comics anyway--and I did. Between freelance gigs, night after night, page after page, I drew out stories that were sometimes crap and sometimes okay, constantly pushing myself to get better. I struggled with bills and odd jobs, worried about money, acquired a recurring pain in my wrist and right shoulder--all in the hopes that I would one day become good enough to do this for a living.
And one night, tired from work and hungry for something to eat, I reached for my wallet, looked into its empty gaping maw and despaired; literally crumpled to the floor and bawled like a madman. Because it was madness: I'd left my home, my family, school and security in order to devote my life to a medium that frankly didn't give a shit about me. I thought I'd ruined my life. Lost in self-pity, choking back tears in a mess that I called my room, I contemplated ending it then and there, when I happened upon my dirty old copy of
Crisis on Infinite Earths
. Reading it again, I remembered the super-people, stalwart and unwilling to surrender to the abyss. And I decided it wasn't the end of my world unless I allowed it to be.
SUPERMAKER
came out of that experience. It was submitted to the Zuda comics competition and rejected two weeks before the imprint went down. I initially intended this to be longer but ultimately decided that, with a few tweaks, it would work better as a short piece. You can read the whole thing over here (click the picture to go):
I'm doing much better now, by the way. I'm still working things out, still honing my craft, but I'm little more secure and a little less dramatic. I see my family more often, go out with my friends on weekends and take comfort in writing and drawing. I love my life, however clumsy or flawed it might seem, because it gives me enough leeway to immerse myself in my passion. I don't know if I'll ever make a decent living out of comics, but I sure as hell won't stop making them.
--
P.S. I haven't blogged in a looong time and I don't know when I'll be blogging again (these days, I like to spend my free time working on my graphic novel), but if you want to reach me or know what I'm up to, I'm more likely to pop up on my
Twitter
,
Facebook
or
Google
+. Viva la komiks, and thanks for reading.
The first mainstream comic I ever read was
Illustration I did for a Xavier School creative writing class.

The brief was that it would serve as the starting point of an "Image Inspiration" exercise, where the students would look at an image and write a short story on the spot based on it. With no instructions other than that, I tried to keep the image general enough so that different stories could be written from it, while implying enough specificity and mood so the students would have something to latch on to. It could be sci-fi, it could be horror, it could be fantasy or a murder mystery--it's up to them.
...having a folder full of comics pages you made from scratch.

I just realized tonight that I've broken the 100 strip mark on the latest season of the RAN ONLINE weekly newspaper strip I've been working on forever. This, combined with past seasons, means that I'm only a few months away from breaking 200 strips.

I know it's just numbers, but this represents years of hard labor, lessons learned, sweat and blood, close calls and fond memories for me. The weekly grind of making this strip, on top of other comics, writing and illustration projects, plus the rigors of daily life, have taught me so much about what it means to make comics for a living.

I started working on this project as a teenager--young and arrogant enough to think that I could just get by on talent. The job taught me otherwise. Talent counts for maybe 1% of it. The rest is hard work, discipline, dedication, sacrifice and a willingness to adapt to new situations. There's no way around it. I looks back at older strips and still cringe at little things that I could've done better if I'd had more time, but overall I'm really proud to have gotten this far.
Pretty cool online sketching application. (via
Drawn!
)
Me, today, on Twitter:
Automatically shipped by
LoudTwitter
BULLETPOINTS.
I've been so thoroughly immersed in my new project that I haven't had much time to go online lately, let alone update on stuff (or answer emails--sorry, I'm getting to it), but here's a couple of things I've been meaning to blog about:
-The Metro Comicon last-last weekend was a blast, mostly because I got to spend time with a lot of local comics creators--
Elbert Or
and
Lorra Angbue-Te
made me feel absolutely welcome, I got to comics-jam with
Josel Nicolas
and his posse, met up with Alexandra Sandoval (the original artist of RAN ONLINE) who I haven't seen in
years
, and was hijacked by
Budgette Tan
,
Gilbert Monsanto
,
Gio Paredes
,
Reno Maniquis
and more for
a panel on independent comics
. I was able to pick up some neat comics stuff, though not as much as I would've liked, because I didn't have much money left, because...
--I now have a
Wacom Intuos4
! Yayyy! I spent months saving up for this expensive, beautiful piece of hardware, and now it's finally mine! My money situation's back to being tight, but I'm happy. If you've ever tried drawing (or coloring) with a mouse, you know how difficult (and unhealthy) it can be. Now I can make drawing gestures that translate straight into the computer, which is a godsend. I've been working every day on incorporating this new tool into my production process, so hopefully it'll improve my output. More comics!
-Filipino-Canadian artist Noel Tuazon has a new comic, "Tumor", with writer Joshua Fialkov, and you should all check out the awesome site they put up for it (
OVER HERE
). It's got a trailer, previews, scripts, behind-the-scenes stuff and more. Noel's art is great, as usual.
-I downloaded
Google Sketchup
just yesterday, and I'm hoping to find the time to learn it. A lot of comics artists have been using this 3d-modelling program to work out complex perspectives and background details, which shouldn't come as a surprise since comics necessitates illustrating with speed. I'd really like to add this tool to my repertoire, mostly to help me out in drawing buildings, cars and all those crazy, complicated weapons I've got to draw for RAN. It doesn't look too hard to figure out; I just need to sit down and learn it.
-Kenneth Yu posts about the return of that cockroach issue of the year,
The Book Blockade
. Paolo Chikiamco shares a very clear perspective on the matter, over
HERE.
If, like me, you're already exasperated and frustrated by this issue, you should definitely read Paolo's post to get a bead on what you can do about it.
-I'll be taking a trip to Singapore this October, and I'll probably be bringing back a ton of books, so they'd better not fleece me at the airport or I'm bringing hell.
That's all for now, as I should be getting back to work. More art and stuff to come later this week. Have a good one, people! :)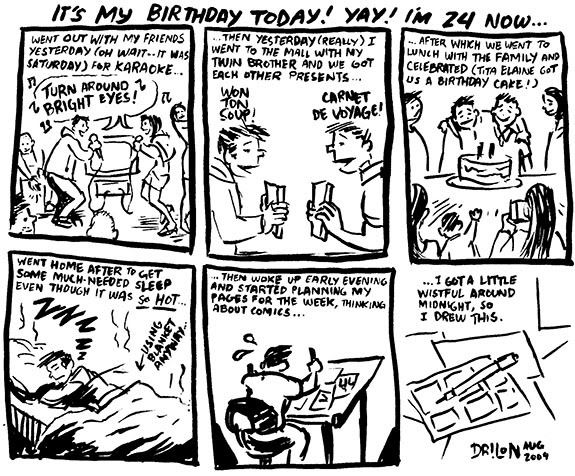 Thank you everyone for the well-wishes and greets! I've had a wonderful birthday! Fingers crossed for 24! Let's hope I can bring the awesome this year! :)
NOTE TO SELF: Never letter with a brush pen ever again. :p